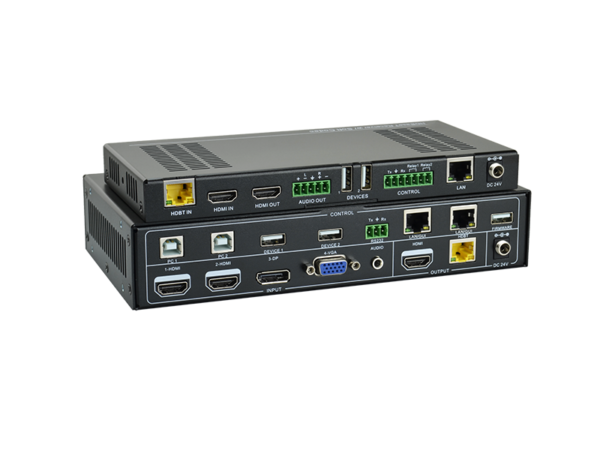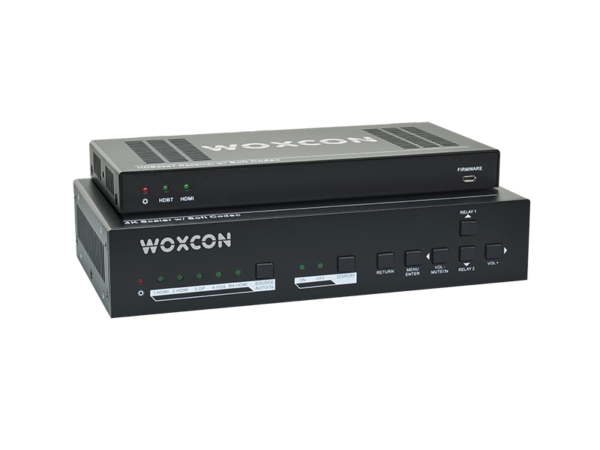 Out of stock
4K Scaler Switcher Easy Meeting Room Video Solution Kit 1x HDMI 1x VGA, 1x DP Input Discounted
Description

Additional information
4K Scaler Switcher Easy Meeting Room Video Solution Kit 1x HDMI 1x VGA, 1x DP Input
4K Scaler Switcher Easy Meeting Room Video Solution Kit 1x HDMI 1x VGA and 1x DP Input and HDBaseT Receiver, Compatible Skype, WebEx and GoToMeeting software, USB Extension, Auto-Sense Switching
The SCU41T-CODEC is a conference system codec kit supporting resolution up to 4K@60Hz 4:4:4 and HDCP 2.2. It includes a Transmitter and a Receiver, providing AV switching, audio de-embedded, USB extension, and system control. All video, audio, control, USB and Ethernet signals can be transmitted over a single CATx cable up to 100m.
The kit provides four video inputs such as HDMI, VGA and DP. To simplify meeting room device management, the kit offers the LAN for Ethernet and six USB ports for device extension, which is four on the Transmitter and two on the Receiver. It supports a variety of HID devices such as camera, microphone, keyboard etc.
It also allows user to control system function via WEB GUI, RS232 and CEC. Additionally, user can control the rise and fall of projector screen over relay port.
This is an ideal solution for meeting space using PC based conference system codecs such as Skype@, WebEx@ and GoToMeeting@ etc.
Supports resolution converting ranging from 720P to 3840×2160@30Hz.
Provides a variety of interfaces for simplifying room devices management.
Supports one-way PoH, the Transmitter can be powered by Receiver.
Supports PCs, USB devices like keyboard, webcam and MIC for conference system.
Extends the transmission distance of USB signals.
Two type-B USB ports for host connection, and four type-A USB ports for HID devices like webcam, mic and keyboard.
Supports video source auto-switching.
Extends video, audio, control command and Ethernet signal up to 100m based on HDBaseT technology.
Ethernet can be imported from either Receiver or Transmitter.
Audio can be de-embedded out from AUDIO OUTPUT.
CEC control for display by front panel buttons.
Smart EDID management.
Relay device control such as projector.
The extra video input on the Receiver for BYOD (sold separately).
Transmitter
Video
Video Input
(2) HDMI; (1) DP; (1) VGA
Video Input Connector
(2) Female HDMI; (1) DisplayPort;
(1) Female VGA (15-pin)
Video Input Resolution
HDMI: Up to 4Kx2K@60Hz 4:4:4
DP: Up to 4Kx2K@30Hz 4:4:4
VGA: Up to 1920×1200@50/60Hz
Video Output
(1) HDMI; (1) HDBaseT
Video Output Connector
(1) Female HDMI; (1) RJ45
Video Output Resolution
Supports 3840×2160@30Hz, 1920×1080, 1280×720
HDMI Standard
HDMI 1.4
HDCP Version
HDCP 2.2
Audio
Audio Input
(1) AUDIO
Audio Input Connector
(1) 3.5mm stereo jack
Audio Input Impedance
>10kΩ
Control Part
Control port
(2) PC, (2) DEVICE; (1) RS232; (2) LAN/GUI
Control Connector
(2) Type-B USB; (2) Type-A USB; (1)3-pin terminal block; (2) RJ45
General
Transmission Distance
Up to 100m
Operation Temperature
-10 ~ +55℃
Storage Temperature
-25 ~ +70℃
Relative Humidity
10% ~ 90%
External Power Supply
Input: AC 100~240V, 50/60Hz; Output: 24V DC 2.71A.
System Power Consumption
35w (Max)
Dimension (W*H*D)
220mm x 44mm x 130mm
Net Weight
670g
HDBaseT Receiver
Video
Video Input
(1) HDBT; (1) HDMI
Video Input Connector
(1) RJ45; (1) Female HDMI
Video Input Resolution
HDBT: Up to 4Kx2K@30Hz 4:4:4
HDMI: Up to 4Kx2K@60Hz 4:4:4
Video Output
(1) HDMI
Video Output Connector
(1) Female HDMI
Video Output Resolution
Supports 3840×2160@30Hz, 1920×1080, 1280×720
HDMI Standard
HDMI 1.4
HDCP Version
HDCP 2.2
Audio
Audio Output
(1) Stereo balanced L/R audio
Audio Output Connector
(1) 5-pin terminal block
Audio Output Impedance
70Ω
Frequency Response
20Hz~20KHz
Stereo Channel Separation
>80dB @1KHz
Control Part
Control port
(2) DEVICE; (1) RS232; (2) RELAY; (1) LAN
Control Connector
(2) Type-A USB; (1) 3-pin terminal block;
(2) 2-pin terminal block; (1) RJ45
General
Transmission Distance
Up to100m
Operation Temperature
-10℃ ~ +55℃
Storage Temperature
-25℃ ~ +70℃
Relative Humidity
10%-90%
External Power Supply
Input: AC 100~240V, 50/60Hz; Output: 24V DC 2.71A
System Power Consumption
35w (Max)
Dimension (W*H*D)
205mm x 21.5mm x 115mm
Net Weight
410g
Transmitter
  1x SCU41T-CODEC-T Transmitter
  2x Mounting ears
  4x Mounting screws
  4x Plastic cushions
  1x RS232 cable (3-pin terminal block to DB9)
Receiver
  1x SCU41T-CODEC-R Receiver
  2x Mounting ears
  2x Mounting screws
  4x Plastic cushions
  1x 3-pin terminal block
  1x 4-pin terminal block
  1x 5-pin terminal block
  1x Power adapter (24V DC 2.71A)
  1 x User manual
| | |
| --- | --- |
| Video Resolution | 1080P, 4K |